Marie Højlund plays on this SPOT
opening night together with king-size
Marybell Katastrofe .

Marybell Katastrophy with an expanded line-up, Norwegian super group making their first appearance outside Norway, Danish, Swedish, and British fireworks around the city. In other words – plenty of reasons to have your first tastes from the SPOT selection at this prologue on Thursday Night



The majority of the SPOT Festival activities take place the first Friday and Saturday of June, but as has been the case the last many years, already on Thursday night there will be various events linked to the festival. This year there will be an actual opening concert in the Concert Hall early in the evening, after which four other venues in Aarhus will host gigs with a number of bands from Denmark and abroad.

In the Concert Hall, you're in for two gigs each of which is unique in its own way.

Marybell Katastrophy

, headed by former Tiger Tunes keyboardist Marie Højlund, have prepared a show which is going to be something out of the ordinary.
We won't go into details in terms of content, but we can reveal that the quartet will be expanded with a drummer – specifically for this occasion and that the music will be supplemented by visuals and choreography as well as various guest stars.

Later that same night a bunch of heavyweights from the Norwegian Music world will take over the stage.

The National Bank

consists of members of Jaga Jazzist, Bigbang, and The Shining and the super vocalist Thomas Dybdahl, who have joined forces to make music "for big stages". The result – beautifully composed pop music with no false modesty – has conquered Norway, so there are plenty of reasons to look forward to the concert, which is incidentally the first chance to see the band live outside their home country.

The SPOT Opening Nights of the last couple of years have featured non-Nordic bands, and this tradition is maintained in 2007. Thus, at Voxhall you will have the opportunity to make the acquaintance of three British acts who are on their way to a large-scale breakthrough.

Metronomy

play an irresistibly wry electronica with carefully rehearsed dance steps, while

Dead Kids

champion a furious synth punk-pop, which the English music press has described as the sound of Michael Jackson doing nasty things to DEVO. Also,

Apartment

will make their way to the opening night, treating us to their guitar-based indie rock. The gigs at Voxhall are a result of fruitful collaboration with the Danish/English concert organisers Two Magpies.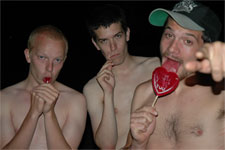 The Floor Is Made Of Lava: humorous post rock in, ahem, red and white.


Studenterhuset will host gigs with a Swedish and a Danish act. The two Stockholm sisters (identical twins even) of

Taxi Taxi!

play acoustical neo-folk with sensuous vocals. Copenhagen-based The

Floor Is Made of Lava

have already created quite a buzz in the Danish underground with their combination of danceable, guitar-driven post-rock and humorous lyrics

Some hundred yards from Studenterhuset, at Train there will be a double feature presentation of Danish music.

Maria Køhnke

will offer samples of her warm voice and her flair for sonorous, guitar-driven pop with plenty of reverb. After Køhnke,

A Kid Hereafter

will take over the stage with his motley and devilishly charming mix of virtually everything from nerd pop to crushing hardcore.

Finally, Musikcafeen will host a unique musical rendezvous between one of Denmark's leading r'n'b/soul/hiphop-acts and a touring band of promising young Brazilian percussionists. Copenhagen's finest

Vincent Van Go Go

will do a one-off gig with latino rhythm explosion

Corpos Percussivos

who are touring Denmark for the first time.

Admission to the concerts of the Opening Night is free for anyone with a two-day ticket to the actual festival. Otherwise there is a 20 DKK admission at the varrous venues as well as at the Concert Hall. Please note that no advance booking is possible.

Opening Concert in the Concert Hall - 19.30:
Marybell Katastrophy + The National Bank (NO)



Voxhall - 22.00:


Dead Kids (UK) + Metronomy (UK) + Apartment (UK)



Train - 22.00:


Maria Køhnke + A Kid Hereafter



Studenterhuset - 22.00:


Taxi Taxi! (SE) + The Floor Is Made Of Lava



Musikcafeen - 22.00:


Vincent Van Go Go + Corpos Percussivos (BR)