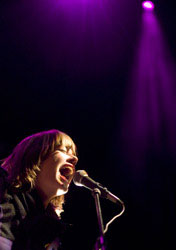 Marybell Katastrophy at this year's SPOT Opening Night. Now the Band will be going to Ireland
(File Photo: Michael Ersted)






Already at this year's SPOT Festival did the representatives of the Irish Hard Working Class Festival express their love of Danish music, and they grabbed hold of

El Ray

right away.

Now another six bands have been added to the line-up (five of these bands played at SPOT) for the festival, which takes place in Dublin 28th-30th September. The Bands are

Oh No Ono, Murder, Marybell Katastrophy, The Floor Is Made Of Lava

,

A Kid Hereafter

– and then

The Elephants

.

Generally speaking, you have to say that the Irish festival has become aware of Scandinavian music: No less than 15 Nordic acts are in the line-up (including Swedish The Concretes, whose presence at the festival is also a directly attributable to SPOT). The organiser of the Hard Working Class Heroes Festival themselves have actually described it as a "Scandinavian Invasion".

"It's fair to say that this is just another example that SPOT has become an ideal platform for promoting new Danish music, and it underlines the development of the international network which ROSA has championed for more than 15 years", says SPOT and ROSA boss Gunnar Madsen.

The Hard Working Class Heroes Festival, the Irish equivalent of SPOT, is a three-day showcase festival, featuring around 100 primarily Irish upcoming bands.